Provided Solutions
Employer Tools
Employee Specific Total Compensation & Benefit Statement
Often Employees do not understand the true cost of their employee benefits as they are only exposed to what their payroll deduction is.
To truly appreciate their benefit package, providing a total compensation statement is another way Plan Analysts helps their clients educate their workforce.  It is also an excellent opportunity to convey important messages from Senior Management.
 Stewardship Report
Plan Analysts provides a client stewardship report to our clients either mid-year or pre-renewal.  This report highlights major accomplishments and services provided to the client over the past year or past years.  Achievements are compared against prior set goals, implementation of key strategies, carrier changes, plan design changes or financial changes such as contributions levels.  The report details specific projects or analyses that were completed and services that were provided.
Besides the summary review of services and service performance, the report also details technology available for the client and employee, a current market overview and progress of long term strategic planning.  This report is a great communication tool in meetings with our clients to make sure we are moving the direction we need to be to reach our joint established goals.
Employee Benefits Liability Coverage

Employee Benefits Liability insurance covers oversights and errors the named insured makes in administrating its various employee benefits programs.  Employee Benefits Liability insurance may not seem important if the business does not provide group medical, life, or retirement programs.  However, most business offer vacation, sick leave, and maternity leave.
Nearly all businesses must provide workers compensation, social security benefits, and unemployment insurance.  Errors in the administration of any of these employee benefits could result in lawsuits.  Plan Analysts offers this important benefit to their clients as an added protection for the complexity of administrating employee benefits
Supervisor Manual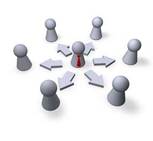 Employers with multiple locations often share the same frustration and difficulty of providing a consistent message in each location.  They can't afford to have a dedicated HR person in each location.   Plan Analysts will provide a ready reference for each location that outlines the basics of which plans are offered by the employer, eligibility, contributions and basic plan design.
The Supervisor Manual is written to give clear and concise information that any supervisor can help an employee "triage a situation in the field".  This saves time, frustration and misunderstandings for the employee and those handling benefits and human resources in the Home office.  The customized manual answers basic questions and gives guidance on all benefits from health insurance to Workers Compensation. This gives clear and concise information to front line supervision to answer employee's basic questions on issues like eligibility, enrollment and contributions.